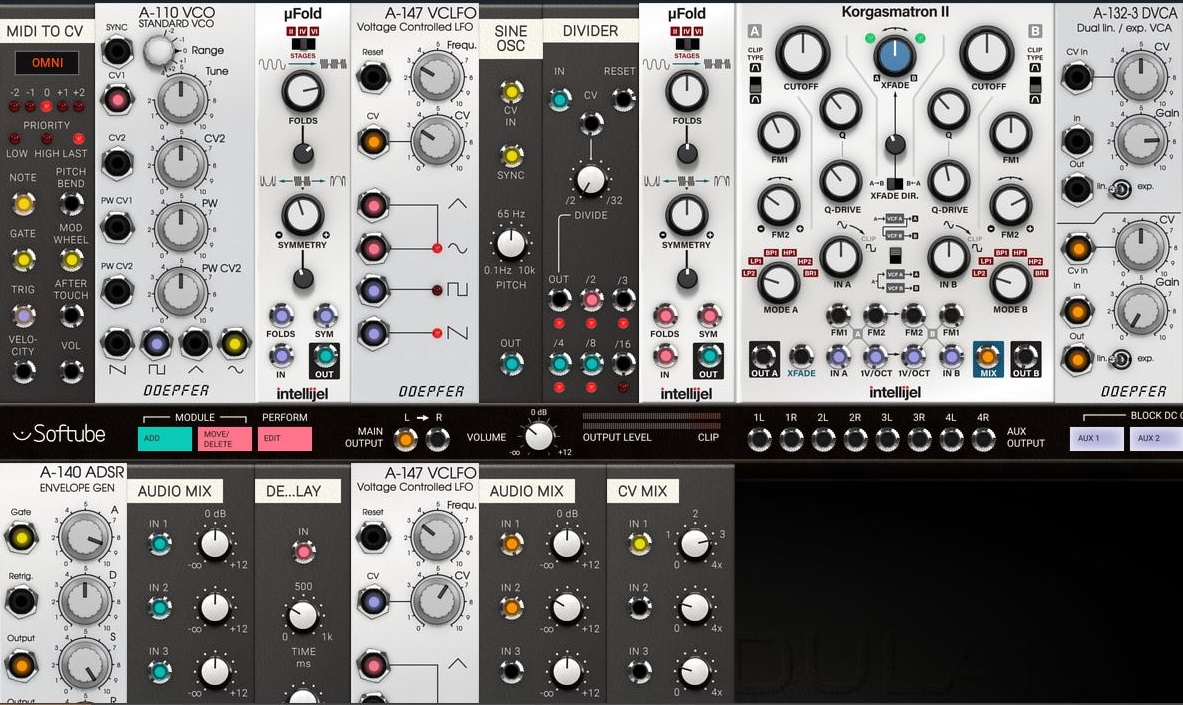 250 Brand New Sounds For The Incredible Softube Modular
**Note – Heartbeat Modules Not Required But The Intellijel Modules Are For This Library To Be Compatible With Your Synth **
**WARNING **
**DO NOT PURCHASE THIS LIBRARY UNTIL YOU READ BELOW. **
**Please Make Sure You Can Access Presets From Another Folder Other Than The Softube Default. Softube Modular does NOT have an internal browser. The presets you see when you use Softube Modular are built into the synth. They are NOT the ones on your hard drive. You could delete them and these presets will STILL show up. In order to use 3rd party presets, you MUST be able to load either fxp, fxb or vst3preset files. Some DAWs Do Not Have A Way Of Doing This. Best Way To Test Is To Create A Subfolder somewhere else on your hard drive. Then download this test file below. **
https://www.dropbox.com/s/icy72xyz96yukuk/2%20VCO%20Velo%20Filter%20Delay%20Lead.fxb?dl=0
Place the test file in the location on your drive that you just created. Bring up Softube Modular and go to your load preset option that your DAW provides for you for your VST. It will either be a load fxp, fxb or vst3preset option. Navigate to the folder where you placed the test file and see if you can see it and load it. If you can't...
DO NOT PURCHASE THIS LIBRARY. IT WILL NOT WORK!!!
THERE WILL BE NO REFUNDS FOR PEOPLE WHO DON'T FOLLOW THE ABOVE INSTRUCTIONS!!!
Sounds are in vstpreset AND fxb format and cover ARPs, Leads, Pads, Poly Synths, FX, Keys, Bells, Bass and more. Each sound was developed to take full advantage of Modular's power.
Demo contains 50 of the 250 patches in the collection and was made with no external FX. Just compression and limiting to even out levels and prevent clipping.
Most patches have some form of mod wheel modulation. Some subtle and some not so subtle.
This collection currently sells for $25. I reserve the right to raise this price at any time. When I do, the new price will be $49.95
Get Yours NOW For Just $25
Click On The Graphic Below This Line To Purchase

Comes with an unconditional 30 Day Money Back Guarantee
PS – Don't forget to check out my other sound libraries HERE